Dylan's Never-Ending band:
Tony Garnier - Stuart Kimball - George Receli - Charlie Sexton - Don Herron -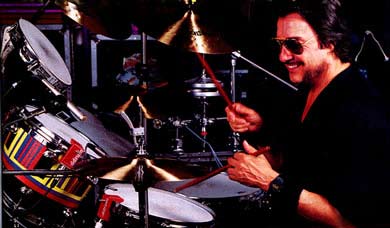 Jim Keltner
Keltner, Jim
Drummer, stepped in when George Receli had to leave
the European tour due to a problem with his arm.
In Milano, 20 April 2002 he "shadowed" Receli,
in Zürich 21 April Keltner played for the first ten songs,
and from Innsbruck 23 April he took fully over.
This lasted until the end of the tour, in London, May 12, 2002.
Has known Bob Dylan since 1971, played with him Nov 1979
at the Fox Warfield "Christian" concerts, etc.
Enormous career, played with everybody.

plays on 412 CDs - (Barnes & Noble Artist Search)