Harding, John Wesley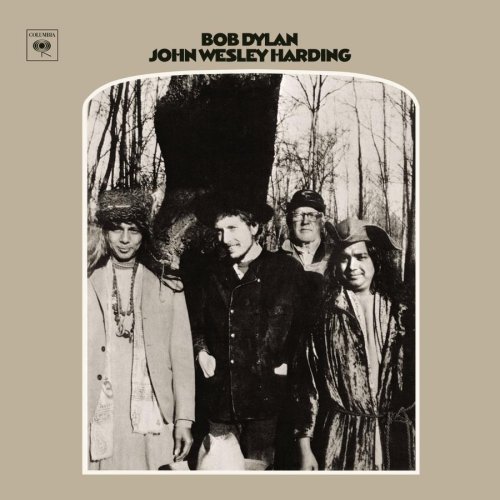 John Wesley Harding / John Wesley Harding / 1967
John Wesley Harding was a friend to the poor...

This album (and its title track) were mis-named after outlaw John Wesley Hardin. Dylan's song has very little to do with the story of the real Hardin; instead, it's basically just a spin-off of Woody Guthrie's "Pretty Boy Floyd." Some Dylan fans note the religious bent of this album and claim that the initials 'JWH' really refer to the Judeo-Christian deity...
---
From: Mark Landis (pscmll@vaxb.hofstra.edu)
Newsgroups: rec.music.dylan
Subject: Re: Help - info on two Dylan songs
Date: Wed, 15 Jan 1997 01:03:27 -0800

> Steve (stevep@orpins.demon.co.uk) wrote:
> : I need info about the following:
>
> : - featured in another Dylan song, a notorious gunfighter on the Texas
> : frontier, killed at least 21 men in the 1860s and 1870s. He was
> : anti-black and anti-Yankee. Was this John Wesley Harding?
John Wesley Hardin (1853-1895) was a notorious gunfighter in Texas and
environs. By the time he was 24, he had killed at least 23 men, and
perhaps as many as 40. He was famous for his "cross-draw," which
reportedly allowed him to outshoot even someone who already held a gun
on him. As to his being "anti-black," one might note that his killing
career began at age 12, when he murdered a slave, and a list of those
whom he killed includes four black policemen. Can't speak specifically
to his being "anti-Yankee," but it would be a pretty good guess that a
Texan growing up in the Civil War and post-Civil War period would be
likely to harbor such attitudes.
---
Some people see the faces of the Beatles in the cover picture of
John Wesley Harding. The enlargement below was made by Bob Meyer.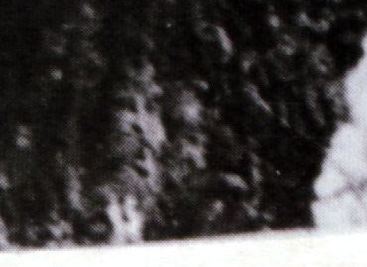 John Wesley Harding and the Beatles? You decide! - Bob Meyer's JWH page.

From: Dennis J Green (dengreen@ix.netcom.com)
Newsgroups: rec.music.dylan
Subject: Re: John Wesley Harding  (long analysis)
Date: Fri, 04 Dec 1998 14:03:46 -0500


JOHN WESLEY HARDING



Sgt Pepper's Lonely Hearts Club Band (SPLHCB) was 
released the end of June, 1967; THE background 
music for the Summer of Love. JWH, was released 
six months later, the end of Dec, 1967 and WAS 
VERY MUCH Dylan's answer/response to the Beatles, 
SPLHCB.

Dylan used SPLHCB as a paradigm for JWH which has 
been overlooked/not realized by many Dylan fans 
over the years.

THE ALBUMS' CONCEPT:

In SPLHCB, the Beatles are transformed into a 
British, Victorian era, uniformed, lawn/bandstand 
musicians. (See the animated movie Yellow Submarine 
to see more). The album is a concert show put on by 
these very British entertainers.

In JWH, Dylan transforms himself into an American 
stereotype: a Western frontiersman, preacher, 
itinerate type of fellow (usually alcoholic) which 
could be seen played occasionally by a guest 
character actor on the many TV westerns of the 50s 
& 60s.  (NOTE: John Wesley Hardin (no g) was "the 
most notorious killer and quick-draw gunman of the 
Texas frontier (post Civil War) ... he led a life 
of gunslinging, duelling, gambling and drinking."; 
from EB.) Dylan's John Wesley Harding had a G added 
to him; G = GOD. Indeed John Wesley HardinG lives up 
to his Christian name: John Wesley was a devout 
British clergyman who founded the Methodist branch 
of protestantism.  However, Dylan's John Wesley 
Harding is only almost God: his initials, J W H are 
only 3 of the Tetragrammaton (JHWH); out of fear/
respect, Jews would not completely write God's name, 
Jehov(w)ah out fully. (Some rmders are being cute 
by using the term B_B, alluding that Dylan is God) 
The concept and songs of JWH is the American gospel 
of Bob Dylan (not God) as told by John Wesley Harding.

THE ALBUMS' COVERS:

(AN ASIDE): Eye was the one who started the thread a 
short while ago on rmd about the worst album cover - 
than someone else started a best album cover thread. 
Someone actually opined that JWH has one of the worst 
BD album covers. One of the reasons of this long post 
is my response to that opinion, since eye feel, for 
various reasons, that JWH has the absolute BEST/
GREATEST Bob Dylan album cover. 

SPLHCB is colorful and eye appealing. It shows the 
Beatles as the Lonely Hearts Club Band in the center 
and doesn't forget 60s "Flower Power" as BEATLES is 
spelled out in red flowers. It is also one of the 
first times in pop culture that the "Cult of 
Celebrity" is used and praised: all of the Lonely 
Hearts Club Band's favorites are depicted from the 
Beatles to Mr Bob Dylan himself. It is obvious that 
a great deal of time and money went into the making 
of the album cover.

In JWH, only a great deal of thought (not time & 
money) was used to provide this cover. A bearded 
Dylan in the center depicts himself as John Wesley 
Harding: he's in costume wearing a "cowboy" hat and 
that same leather/suede jacket from the Blonde on 
Blonde album cover (but no muffler). As opposed the 
the color of SPLHCB, JWH is drab: a B&W photo within 
a browish/grayish? (I need help with this color) 
border; a stark contrast (a first of many) to SPLHCB. 
Instead of celebrities, the other people depicted 
on the cover are COMPLETE NOBODIES: the gardener 
and two 3rd world religious figures (house guests 
of Albert Grossman, Dylan's manager and neighbor 
in Woodstock - where the pic was taken). The FOUR
in the photo is a dig at the the FAB4: Dylan is 
George (his friend even then), Paul & John (to many, 
holymen) are played by the house guest Holymen, 
who's traditional garb look alot like costumes for 
the Lonely Hearts Club Band, last and least, Ringo 
is depicted by the gardener (which in 1970? he 
plays in the movie Candy, albeit, a Mexican gardener
named Manuel). The photo on JWH says so much with 
so little about Dylan's opinion about The Beatles 
and SPLHCB AND about his created character/musician 
John Wesley Harding: who like Jesus, surrounds 
himself with outcasts; 2 who are formally in search 
of Truth, and a woodsman who would spare that tree.
This cover fully depicts Dylan's concept of the 
anti-SPLHCB album, i.e: plain, religious, Truth in 
stark black and white words, actions, thoughts, 
Interior over Exterior, Western theme, American, 
VS, (the Beatles) over production (music and album 
cover), finding truth in drugs, exterior (celebrity) 
over interior, Victorian theme, British.
In other words: JOHN WESLEY HARDING IS BOB DYLAN'S 
BEST/GREATEST ALBUM COVER

THE ALBUMS' CONTENT (MUSIC & LYRICS):

The Beatles product was THE tour de force of 
state-of-the-art music reproduction and values. 
That and with John & Paul's great melodies is 
why it is even now considered the Greatest Rock 
Album ever made. Of couse, at that time, if you 
went to a concert you wanted to hear an exact 
reproduction of the songs. The Beatles knew that 
couldn't do this: SPLHCB was Rock's first true 
studio album: it only could be done in the 
studio. For many, including Dylan, that is not 
true music. The Beatles had already stopped 
touring. Dylan in response to this non-
reproducable music gave us the first unplugged 
album: JWH, with its Acoustic rhythm guitar, 
harp, bass, and drums which could be reproduced 
anywhere (Blonde on Blonde where are you?). The 
folk heads were rejoicing but Dylan was not 
releasing a folk album; he was giving an anti-
SPLHCB concept album. The first song in each 
album introduces us to its main character(s): 
The Lonely Hearts Club Band & John Wesley Harding. 
For the most part, SPLHCB gives us songs about 
ordinary people and situation/problems that are 
studded with LSD/Drug images and/or keys & codes: 
LucyintheSkywithDiamonds = LSD. Harrison (true 
Dylan fan) gives us a dose of religion with 
Within You Without You. On JWH, the narrator, 
J.W.Harding gives us songs in the form of sermons, 
laments and parables. I am not going to give my 
interpretation of each song, that's another
very long post and not relevant or needed with 
this posting. What is neccessary to point out is 
that Dylan for the most point is also telling
stories about ordinary people, situations & 
problems but his songs are studded with Visions 
of Jehovah. The Beatles end SPLHCB with the best 
song on the album, A Day in the Life; not only is 
it laced with drug imagery, it takes on the 
constructs of existentialist thought. Great ending 
"heavy" chord.   Now Dylan, ends his album on a 
pair of "light" notes (it must be Sunday and John 
W. H. is relaxing): 2 C&W love songs (with added 
frivolous steel guitar)- no existential thoughts 
(or religious sermon) here.

THOSE ALBUM NOTES ON JWH:

The Beatles gave us the lyrics to the songs on the 
back cover of SPLHCB, Bob Dylan gives a parable 
(which enforces his complete concept album art 
form) which uses the Nativity story as an paradigm. 
Dylan gives us three low life kings asking for gifts 
instead of giving gifts who are in search of a star 
(Dylan) not following a star. They arrive at a 
middleclass, suburban, household instead of a stable 
where they are view FRANK TRUTH (in various forms), 
i.e. God - and are given their wishes, are healed, 
and happy. 
(Note: Vera is latin for Truth)

Of course, eye believe JWH is one of most underrated 
Dylam albums of all time.
This album shows true genius.
The religion found on and in this album greatly 
eclipses Slow Train Coming and Saved.
Please get out your copy of JWH and listen "Seek 
and ye shall find"

Thank you for reading my opinions. Please email me 
any comments to
dengreen@ix.netcom.com


---


Subject: Re: John Wesley Harding (long analysis)
From: Maureen & Stephen Scobie  sscobie@uvic.ca
Date: Fri, 04 Dec 1998 18:27:36 -0700

In article <36683211.3445@ix.netcom.com>, Dennis J Green  wrote:
> Instead of celebrities, the other
> people depicted on the cover are COMPLETE NOBODIES: the gardener and two
> 3rd world religious figures (house guests of Albert Grossman, Dylan's
> manager and neighbor in Woodstock - where the pic was taken).

Not true.  They are Purna Das Baul and another member of the Bauls of
Bengal, a very distinguished Indian musical group (still active, as far as
I know).  They were staying with Grossman because they were giving concerts
in New York at the time.  They may not exactly have been well known to a
North American audience, but it is very unfair to call them "complete
nobodies."

(And, as I may have said before on this group, JWH is my only autographed
copy of a Dylan album, since I have a copy signed by Purna Das Baul.)

Stephen


---



Newsgroups: rec.music.dylan
Subject: Re: The Man In The Hat comes back
From: Ray Baldwin  rayzon@tig.com.au 
Date: Thu, 17 Apr 2003 19:16:51 +1000

Patricia Jungwirth wrote:

> >>>>
> "Looking Up Dylan's Sleeves" part two, by Rob MacBeath (Telegraph 51) --
>
> JOHN WESLEY HARDING
> [...]
> The photograph was taken by Columbia staffer John Berg in Woodstock and the
> three people pictured with Dylan (who wears the same jacket he wore for the
> cover of Blonde On Blonde) are Purna Das, leader of the Bauls of Bengal and
> Lakhsman Das, another Baul, who were at the time staying in a converted
> barn on Albert Grossman's property. Sally Grossman, rather helpfully,
> identified the fourth member of the group: "The guy in the background was
> Charlie Joy... He was a local carpenter and stonemason who happened to be
> around that day"[1]. The hat at the bottom of the photo belongs to an
> individual who has appeared in another photograph from the session,
> reproduced below [sorry guys :-)]. Whether he is crouching down at the
> front of the group and has been cropped out of the photograph I don't know.
> Perhaps his hat is just sitting on a tree stump.
>
> Sally Grossman also confirmed that the photograph was taken in what is
> effectively her back garden: "It's a piece of rough grassland enclosed by
> trees with a chipped and deserted swimming pool at one end."[
>
> <<<<
>  the above is from
> edlis
>
> The other picture referred to is available on this webpage
>
> 
>
> The man in the hat is visible, but not his face - has he been identified?
>
> Tricia

There's a better picture of what could be the unidentified person from the
same session in a scan from The Telegraph, issue 51 (see link below). Charlie
Joy - the big guy with the beard - is not present in this one. Someone more
familiar with the people Dylan hung around with at his Woodstock home may be
able to recognise him. Could it be one of the members of The Band, sans beard?
I also remember reading somewhere there were more than just the two Pas
brothers travelling as the Bauls of Bengal - maybe it's one of them?

here

Also a bit more from a John Bauldie interview with John Berg:

This was extracted from The Telegraph, issue 51, Spring 1995:

The photo was taken by John Berg. John Bauldie interviewed him especially
for the article. Here's his story:

"Albert Grossman called me and he said that Bob wanted to be able to see
the pictures right away so he could decide, and I said, Fine. We can do it
with Polaroids. We went up to Woodstock, to Albert Grossman's house, and
Bob came over. This was one of the first things he did after his accident.
Bob Cato was with me. He was my boss. Cato was using a colour Polaroid and
I had black-and-white.
        It was the coldest day of the year. I'm not kidding, it was like 20
below zero. It was so cold, we would run outside, the Indians, the
woodcutter, whoever was around, and shoot pictures for as long as we could,
then put them under our arms - because pictures will reticulate in that kind
of cold - and then we'd run back inside and we would have brandy! You'd see
these Indian priests standing there with Dylan slugging down brandy. Hahaha!
It was pretty funny. Then we'd lay the pictures out on this big deal table and
at the end of the whole thing, Bobby picked out this picture to use on the
sleeve.
        Later on, I got a call from Rolling Stone magazine in San
Francisco. Someone had discovered little pictures of The Beatles and the
hand of Jesus in the tree trunk. Well, I had a proof of the cover on my
wall, so I went and turned it upside down and sure enough . . . Hahaha! I
mean, if you wanted to see it, you could see it. I was as amazed as
anybody.

Do you still have the original Polaroid?

No. I used to have it in a frame, but I sold it at a benefit for NARAS. It
was auctioned off. It made about 50 bucks.I should never have done it."



Ray.






---


---