Bauls of Bengal
Appear on the cover of "John Wesley Harding".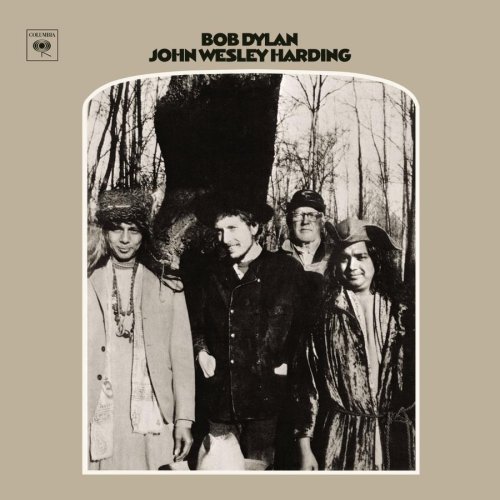 Subject: Re: John Wesley Harding (long analysis)
From: Ed Ricardo (edu@edlis.org)
Date: Mon, 07 Dec 1998 00:45:17 GMT
Organization: EDLIS


On Fri, 04 Dec 1998 18:27:36 -0700, sscobie@uvic.ca (Maureen & Stephen
Scobie) wrote:
>In article <36683211.3445@ix.netcom.com>, Dennis J Green
> wrote:
>> Instead of celebrities, the other
>> people depicted on the cover are COMPLETE NOBODIES: the gardener and two
>> 3rd world religious figures (house guests of Albert Grossman, Dylan's
>> manager and neighbor in Woodstock - where the pic was taken).
>Not true.  They are Purna Das Baul and another member of the Bauls of
>Bengal, a very distinguished Indian musical group (still active, as far as
>I know).  They were staying with Grossman because they were giving concerts
>in New York at the time.  They may not exactly have been well known to a
>North American audience, but it is very unfair to call them "complete
>nobodies."
>(And, as I may have said before on this group, JWH is my only autographed
>copy of a Dylan album, since I have a copy signed by Purna Das Baul.)
>Stephen

It may just be the way Dennis worded his otherwise very fine posting,
he might have been better to say: 

>> Instead of celebrities, the other
>> people depicted on the cover are COMPLETE NOBODIES:

   Instead of celebrities, the other 
   people depicted on the cover are complete nobodies
   to the sort of ignorant listener Bob Dylan so loves
   to mock and needle in his work. 

Otherwise one might think Dennis really thinks they are nobodies. 

The Bauls in question are represented in serious Dylan collections not
only on the John Wesley Harding cover but also by their own Big Pink
album: 

Bengali Bauls... At Big Pink (Buddah BDS 5050, 1968) 

http://theband.hiof.no/band_pictures/bengali_bauls_at_big_pink.jpg

That album is now so valued that it appears in esteemed 18th century
auction house auctions these days: 

http://www.bonhams.com/auct/a960425/Page109.html#L1

>COMPLETE NOBODIES

Not sure how rusty your Persian is, Dennis, but the Persian word aul
means "very important person," signifying the supposed exalted status
of a member of the cult of auls.

Dennis, they may not be as famous as you or me, but the two song and
dance men have names, Laksman and Purna Das. :-) 

And are you sure, Dennis, that is a gardener you see?  I recall him as
Charlie Joy, a local carpenter?  Now why would our hero want a
carpenter in this shot?  Must be something to do with carpenter's
wives or carpenter's sons?  Can you think of any famous carpenters or
their sons? 

        yeba venu-kala-dhvani, eka-bara taha suni,
                  jagan-nari-citta aulaya
       nivi-bandha pade khasi, vina-mule haya dasi,
               bauli hana krsna-pase dhaya 

"The transcendental vibration of Krishna's flute disturbs the hearts
of women all over the world, even if they hear it only once. Thus
their fastened belts become loose, and these women become the unpaid
maidservants of Krishna. Indeed, they run toward Krishna exactly like
madwomen." 

Would this sort of musical tradition have any appeal to our hero? 

Bear in mind if Mr Dylan is having a jibe at The Beatles -- Dennis'
main theme and an excellent one -- then his Bauls have a lot more
street cred than George Harrison's Ravi Shankar at Montreal's Expo
'67.  And bear in mind that George's style of Hinduism with Hare
Krishna is not at all approving of the Bauls.  (The statements made
read strangely similar to our own dear Madison friend the Rev Noebel!)

"Their philosophy encourages a person to engage in all sorts of
degraded acts of lust and depravity..." 

"The Bauls move from one event to the next, perform music, smoke hemp
and look for women. Often a Baul picks up a woman at one event and
drops her at the next to take on a new one." 

Surely our hero was not attracted to the sort of lifestyle of which
the Bauls are accused? :-)  

Bauls are very hospitable to those interested in their music, letting
them stay in their homes freely, learning about their work.  This
attitude was not that unfamiliar to those staying in the Big Pink and
other houses nearby... 

Similarly Bauls have been in at least three religious traditions,
Hinduism, Buddhism and Islam, yet they are as far from sectarian as
can be imagined.  Indeed a Hindu Baul might have a Muslim teacher or
vice versa.  Might this reluctance to adopt strict religious
definitions and their desire to learn from related traditions find
resonance in our man's religious decisions? 

Through their songs, dances, gestures, through silences, through
postures and looks, the Bauls tell stories of the earth, of the body,
of lovers uniting - subtly revealing the mystery of life and laws of
nature. Submission to the divine is their tightrope to wisdom. Most
Bauls are wandering mendicants, living on what they are offered by
villagers in return for their songs. They sing from the heart on their
never ending tours and consecrate their lives to a fusion of music,
song and dance as the privileged vehicle for attaining ecstasy. 

I don't know about the experience of other rec.music.dylan readers but
I have found in Calcutta there is quite a lot of respect among young
musicians for Bob Dylan.  Someone like Pete Seeger still plays to rave
reviews in Calcutta.  It would be rather exciting if Bob Dylan were
brave enough to play in such places.  Even with his Malibu
affectations, his skills at advertising jingles and corporate
entertainment, I think he could still pull off credibility if he
wanted to do so.  There is something very eerie about discussing Bob
Dylan's work in a Calcutta coffee house with local musicians, it is a
dark and atmospheric city, with a depth of culture hard to explain.
Bauls of West Bengal would make a support act no one would forget
quickly. :-) 

Levon Helm in his This Wheel's On Fire (1993) tells us, "The music was
a bit too weird for the guys from the Band, so they left while Garth's
tape machine rolled for hours." This tells us quite a bit.  The Bauls'
music was too weird for people who knew Rompin' Ronnie Hawkins, Tiny
Tim and Bob Dylan? 

Look at the smiles in their eyes. 

The photograph was taken by Columbia photographer John Berg.  It was
taken in Sally and Albert Grossman's back garden.  You could go there
now and seek out the tree, see if the Beatles faces are still there?
May be best to take some mystics with you though... 

And who was the fifth man, the very short chap low in the photograph
in front of Bob Dylan?  Rumour has it that the Bauls brought a huge
lump of hashish with them and insisted it be in the photograph.  The
only thing to cover up that stash on the tree stump was the huge hat
you see there.  So no, no one is that much shorter than our Bobby. :-)


And though our man may mock and needle a Beatle or two here and there
it is clear that all these characters have major achievements, from
Ravi Shankar to the Beatles, to Laksman and Purna Das... 

Having said all that I hope I have not given the wrong impression,
Dennis' posting was excellent, a model of provocative thinking well
posted.  I disagreed with one small phrase, and that sparked my
interest.  If more posted as well as Dennis then rec.music.dylan would
be a much more interesting place with much greater dialogue.  Makes
you think. 

                                                     ed
                                          edu@edlis.org
                                                 Havana 
                          http://www.edlis.org/parties/ 
                 http://www.runprod.com/Sounds/Baul.mov
            http://www.edlis.org/twice/gifs/jwh_big.jpg

(Now what will the EDLIS Random .sig generator do with this posting?
Mind you I believe the boys in the basement doin' the lyrics have let
Roosevelt Gook piano lyrics in at long last, sooooo... Sitting on a
barbed-wire fence, indeed!) 

-- 
Walked forty seven mile of barbed wire
I use a cobra snake for a necktie 
Got a brand new house on the roadside 
Made out of rattlesnake hide 
There's a little bitty chimney 
Built up on top 
Made out of a human skull
Come on baby take a walk with me
Eileen, tell me who do you love? 
Who do you love? 
Who do you love? 


---



Subject: Re: On the Cover of JWH
From: Jim Linwood  jlinwood@aol.com 
Date: 16 Dec 2000 10:23:00 GMT

 (mister jones) writes:

>Now, for some reason I want to say that the men
>with Bob in the photo are three traveling "Bengal Bauls," who for some
>reason I want to say are doomed or predestined to roam the planet before
>they reach Bombay, being itinerant minstrels of the incorrigible sort.
>The one dressed upike a Native American squire has the "OM" tao on his
>scarf  bbut the one in back looks like a local to me.  I once wrote a
>paper on this subject but it doesn't all come back to me now, and my
>files are not digital if you know what I'm sayin.

Everybody has their own interpretaion of the JWH cover. There are only two
Bauls of Bengal present; Purna and Lakhsman Das. The man on the left is Charlie
Joy, the local handyman. Ginsberg encountered the Buals in Begal and brought
them to the attention of Grossman. Al became their manager and brought them to
the States where they played Frisco, LA and Santa Cruz. They were in Bearsville
where Garth Hudson arranged for them to make the album The Bengali Bauls at Big
Pink (Buddah BD5050).

They met and played with Dylan and Purna has a tape of the session. He later
said: "There is a great similarity between our music and his. There is a
connection between Baul music and Western folk music  because the subjects are 
nature, love, human bodies, sorrow, which in fact are subjects common to all
people everywhere."

You can read the full backgound to the cover (and the subsequent sightings of
the Beatles, God and drugs by Rollin' Stone and Weberman) in The Telegraph 51.

JL
Bauls of Bengal

Babu Kishan, son of Purna das Baul

Who is Babu Kishan? - newspaper clipping.


---


---