Lanois, Daniel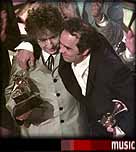 Achieved a reputation as the producer in vogue by producing Peter Gabriel, U2, Robbie Robertson and the Neville Brothers before working on Dylan's Oh Mercy album in March/April 1989.
Clinton Heylin:"Bob Dylan: Behind The Shades, a Biography"
lilysazz@hookup.net (Lily Sazz):
Lanois was born in Quebec, but his family moved to Ancaster Ontario when he was a boy. Ancaster is adjacent to my town, Hamilton, Ontario. I'm familiar with his whole family: Brother Ron is a successful chef with a Cajun style restaurant here. He has cooked in New Orleans for some of Dan's sessions, such as The Neville Brothers, and Bob Dylan as well, I believe. Bob is now into producing videos among other creative things, and lives near here in a log cabin that he built himself. Jocelyn bounces between New York and Hamilton, she's a former Martha and The Muffins member, and former Crash Vegas member. It was through Jocelyn and Dan that I had the opportunity to piano coach Bridget Fonda for her role as a musician in the movie Camilla, which Dan wrote the soundtrack for. This movie has been released in Canada, but won't be out in the states until January 20th or so.
Producer of "Oh Mercy" and "Time Out Of Mind"
http://www.sfbayconcerts.com/lanois/home.html
---


---