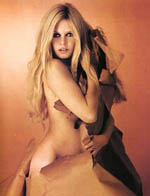 Bardot, Brigitte
I Shall Be Free / The Freewheelin' Bob Dylan / 1963

Well, my telephone rang it would not stop
It's President Kennedy callin' me up
He said, "My friend, Bob, what do we need to make the 
country grow?"
I said, "My friend, John, Brigitte Bardot,
Anita Ekberg,
Sophia Loren."
(Put 'em all in the same room with Ernest Borgnine!)




---
Date: Mon, 7 Aug 1995 15:41:52 +0500
From: MOE (dsc9bam@IMC210.MED.NAVY.MIL)
Subject: Carnegie Chapter Hall 4 Nov '61 Program
Quote from the program for BDs first NYC concert, at Carnegie Chapter Hall on November 4, 1961. The original program is a 6x9, 4 page foldout w/a great, boyish shot of our man on the front page above the concert info. Dylan self-penned his biography on the inside, and it is uproariously funny. Read on:
         "I started writing my own songs about four or five years
ago. First song was to Brigit Bardot, for piano. Thought if I
wrote the song I'd sing it to her one day. Never met her."
-------------------end excerpt from Moe's post-----------------
---


---