---
Still more stuff from . . .

The Best Bob Dylan Magazine In The World
---
Wanted Man's other publications

Down the years, there have been occasional "special" publications. Five of these made up the WANTED MAN STUDY SERIES. The idea of these booklets was to present longer essays than would comfortably fit in The Telegraph. The publications in the series were as follows:
BOB DYLAN'S SLOW TRAIN
by
John Hinchey (1983)
---
BOB DYLAN & DESIRE
by
John Bauldie (1983)
---
BOB DYLAN: ESCAPING ON THE RUN
by
Aidan Day (1984)
---
THE BIBLE IN THE LYRICS OF BOB DYLAN
by
Bert Cartwright (1985)
---
JOKERMEN & THIEVES

BOB DYLAN & THE BALLAD TRADITION
by
Nick de Somogyi (1986)
---
Bert Cartwright's exhaustive study of the Biblical sources for many of Bob Dylan's lyrics was revised, enlarged and re-issued with a new cover in 1992.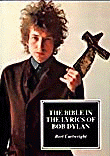 ---
Two other notable publications are:
THE GHOST OF ELECTRICITY

by

John Bauldie (1988)

(A definitive history of the 1966 world tour subsequently re-issued in smaller format paperback in 1993)

and
DIARY OF A BOBCAT

by

John Bauldie (1995)

(A compendium of the "on the road" articles that appeared in past Telegraphs.)

As all of these publications were short runs, none of them is currently available for sale.
---
Finally, for the last few years the Never-Ending Tour information documented in the news section of The Telegraph has been collected and published in yearbook form. There have been five publications to date, all written by Mike Wyvill and John Wraith:

THE ROAD UNWINDS


Bob Dylan's 1990 Concerts
---
STILL ON THE ROAD


Bob Dylan's 1991 Concerts
---
HEADING FOR ANOTHER JOINT


Bob Dylan's 1992 Concerts
---
DOWN THE HIGHWAY


Bob Dylan's 1993 Concerts
---
FROM TOWN TO TOWN


Bob Dylan's 1994 Concerts
---
---