BOB DYLAN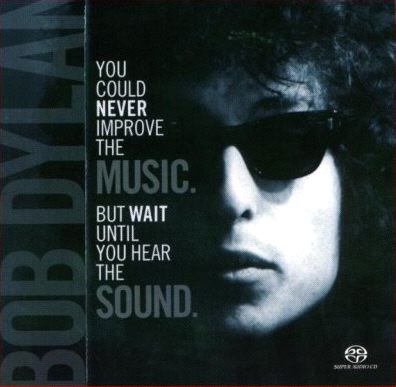 Bob Dylan Revisited—The reissue Series on Columbia/Legacy.
Series on SA-CD: The Freewheelin' Bob Dylan; Another Side Of Bob Dylan; Bringing It All Back Home; Highway 61 Revisited; Blonde On Blonde; John Wesley Harding; Nashville Skyline; Planet Waves; Blood On The Tracks; Desire; Slow Train Coming; Infidels; Oh Mercy; Street-Legal; Love And Theft.
With the above information I received a SA-CD seven- track sampler highlighting recordings from the Bob Dylan hybrid Super Audio CD reissue series.
Tracks: All I Really Want To Do; Love Minus Zero/No Limit; Stuck Inside Of Mobile With The Memphis Blues Again; Tangled Up In Blue; Gotta Serve Somebody; Moonlight; Cold Irons Bound.
Whatever your taste in music, I very much doubt if you have not heard or heard of the great Bob Dylan—an artist that has achieved the status of "A legend in his time". If I started to write about the man and his music on this sampler, I would not only be telling most people things they know I would be missing the main object of this sampler. I have always maintained if you do not fully understand technical terms don't get involved discussing them. So I must confess some of the technical terms used to make these recordings are above my head but I can tell you what my ears have heard.
Firstly, selecting Bob Dylan and his music is an excellent choice because of his unique singing voice. The tracks also contain a gold mine of instrumental sounds that will put any new form of sound recording to the test. The slogan on the sampler says "You Could Never Improve The Music But Wait Until You Hear The Sound" who ever are responsible for that slogan has got it absolutely right. I have been playing my old recordings of B.D. then listening again to this SA-CD, which has truly amazing sound quality and I was playing it on my normal CD player not having a SACD player.
Extract From Album Sleeve. This sampler has two distinct layers. One layer contains a newly remastered stereo mix that plays on any CD player. The other layer contains a high-resolution SA-CD stereo version and a 5.1 multi-channel surround sound version of the same repertoire that works on Super Audio CD- compatible players.
We appreciate that the majority of Dylan's work does not fall into our country category but we do feel that it is a good example of what the future may hold. I was more than impressed by this sampler and will be watching for more releases. Now I must find a SACD player for the full sound experience. WE do not think the sampler is available separately but all of the albums listed about should be.
By IAN McQUEEN