From Kevin Wilson @ KWPR
Tel 020 7721 7621
KWPR
Studio 310 The Chandlery
50 Westminster Bridge Road London
SE1 7QY
Tel: 020 7721 7621 Fax: 020 7721 7640
www.kwpr.co.uk
Dear sir,
we are the publicists for the London premiere of a new play about an imaginary meeting between Bob Dylan and Dylan Thomas. I hope you can featureand maybe picture the production on your site.
Here's the info:
Uptrodden Productions with New End Theatre
presents the London Premiere of
A Handful of Rain
by Phil Bowen

directed by Benet Catty

NEW END THEATRE
27 New End, Hampstead, NW3 1JD
Box Office: 020 7794 0022
Tickets: £11.00 (£8.00 concs)

Tuesday 14 - 1 June 2002 (extended)
Tuesday - Saturday at 9.30pm
Sunday at 7.30pm

Press Night: Wednesday 15 May at 9.30pm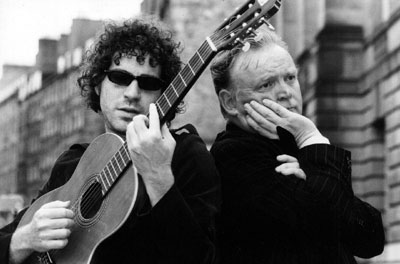 In the same month as legendary rock icon Bob Dylan plays UK concert dates, the New End Theatre presents the London premiere of this acclaimed play about an imagined meeting between Bob Dylan and Welsh playwright Dylan Thomas in New York's notorious Chelsea Hotel.
This surreal and humourous piece explores with a mixture of reality and fantasy the common elements of these two talented legends. How they both built a considerable image and how the success of fame affected their personal and private lives.
So what's the play about? It's about an hour or so... An hour in which two legends tailspin, collide and overlap into argument, anecdote, poetry and song. They don't owe anybody anything. They practice their practice, do what they do...
Bob Dylan, who released a new album, Love and Theft, in 2001, and plays London Arena on May 11 & 12, is without doubt one of the most important figures in the history of rock music. Dylan grew up in Minnesota and learned to play the guitar as a teenager listening to Elvis Presley. Later he was influenced by Hank Williams and Woody Guthrie, the pioneers of folk and country music. He dropped out of college and went to New York in 1960, becoming part of the burgeoning Greenwich Village folk scene. He made a name for himself performing alone and signed a contract with Columbia Records a year later. His debut album contained mostly folk covers, but his second, The Freewheelin' Bob Dylan (1963), was mainly his own material and included the folk anthem Blowin' in the Wind. It was hailed as a masterpiece and marked the emergence of one of the most distinctive and durable voices in American pop music.
Dylan Thomas was one of the 20th century's greatest poets. He was born in Wales in 1914 and died in New York in 1953 aged just 39. His most famous works include Under Milk Wood, Portrait of the Artist as a Young Dog, Adventures in the Skin Trade, and A Child's Christmas in Wales. Towards the end of his life Thomas toured the US, performing his works before sell out audiences at colleges and universities.
PETER GEVISSER originated the role of Bob Dylan at the Edinburgh Festival. He was Gregorio in the Danny Boyle film The Beach; Lazarus in the US TV movie Jesus and Butes in the TV movie Jason & The Argonauts.
PETER READ originated the role of Dylan Thomas at the Edinburgh Festival. He is a performance poet who came to acting late. Five of his books have been published, and his most recent book of poems, God's Botherer, received excellent reviews. He was a founder member of the poetry magazine, Roundyhouse, and he is currently writing a film script for S4C on the life of a mad revivalist preacher.
PHIL BOWEN is a writer/performer and teacher. He has had collections of his poetry published and selected for The Forward Book of Poetry. His books include The Professor's Boots - Poems About Max Wall, Tony Hancock and Ken Dodd. He has also edited two anthologies: Jewels and Binoculars - 50 Poets Celebrate Bob Dylan and Things We Said Today - Poetry About The Beatles. His writing for the theatre includes The Same Boat and The Other Side of Words - an adaptation of letters and poems of W S Graham.
Benet Catty has directed acclaimed productions of David Mamet's Speed-The-Plow, Sexual Perversity in Chicago and Edmond, and Ben Elton's Popcorn.
For further information please contact KEVIN WILSON or MARK WHITE at KWPR on 020 7721 7621
Kevin Wilson Public Relations
Studio 310 á The Chandlery - 50 Westminster Bridge Road - London SE1 7QY
Telephone: 020 7721 7621 - Fax: 020 7721 7640 - e-mail: KWshout@aol.com
www.kwpr.co.uk