Bob Dylan: MTV Unplugged
---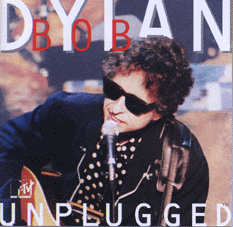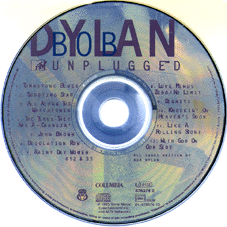 A Dignity Unplugged CD single issued in Europe.
---

For the European release an additional track `Love minus zero|No limit'
is added. Track list is

1. Tombstone Blues 
2. Shooting Star 
3. All along the Watchtower.
4. The Times they are a-Changin
5. John Brown 
6. Desolation Row
7. Rainy Day Women #12 & 35 
8. Love minus zero/No limit
9. Dignity 
10. Knockin on Heaven's Door 
11. Like a Rolling Stone
12. With God on our side.

I think I will play it again now. Cheers.

--
Douglas Clark                                  Voice : +44 1225 427104
69 Hillcrest Drive,                        Email : D.G.D.Clark@bath.ac.uk
Bath, Avon, BA2 1HD, UK                Books : http://www.bath.ac.uk/~exxdgdc
---
Subject: "Unplugged" Review by Jeff (long enuf ;-)
Date: 28 Apr 1995 21:36:57 -0400
From: jfryblair@aol.com (JfryBlair)
Organization: America Online, Inc. (1-800-827-6364)
Newsgroups: rec.music.dylan

Here's my review of the new album, hope it is enjoyed. Feedback welcomed, craved even... e-mail me.

This Old Man : Bob Dylan, "MTV Unplugged"
So here is the man as we must come to know him now. Grandfather Dylan. Mid-wheeze in the cover photo, mid-tempo on the disc, and more than likely past the "mid-career" mark now, should natural laws end up applying to him after all.... Even as recently as 1989's "Oh Mercy" he sounded like your slightly burned-out hippie uncle. Now here he stands, or perches on a stool, a hip New York zeide with some history to teach. Bob's still moralizing, but the words no longer sting with the brashness of youth; they are passed down from on high with the gruff assuredness of an old man.

What we have here is yet another tape of Bob Dylan, singing to a smallish crowd in a room in New York City. Think of all the recordings of Dylan's performances known to fan. I'd say that, excluding tour tapes and studio sessions, a significant portion of what there is fits in to this particular category. Think of the early folk club recordings and small-hall concerts, guest spots on others' club dates in the 70s and 80s, radio broadcasts, think of the Supper Club, heck, think of Toad's Place in New Haven, only 75 miles away. Sort of a little subset of Dylan's work, if you will. Well, it should not come as a surprise that there are many performances on this new "Unplugged" album that rank with the best moments of this mini-genre, even a few, perhaps, that rank among the best of his career.

Which makes it infuriating to report that one of this rarified latter bunch, the sublime "Love Minus Zero/No Limit," will NOT BE AVAILABLE to an overwhelming percentage of the people who encounter this album. Sony U.S. has, for some reason, passed on this track, leaving it to the European labels to release as a so-called "bonus" track. It has the feel of a tired cliche among Dylan fans that Sony always gets everything wrong. Like all cliches, I have finally decided that this one too has its roots in incontovertible fact; that is to say, SONY ALWAYS GETS EVERYTHING WRONG! I swear to you, my countrymen, I do not report this to make your lives more difficult or frustrating, or to fall into the old "It's rare, therefore it's brilliant" commonplace of rock criticism... but YOU MUST acquire the IMPORT version of this album! Demand of your local record stores that they stock it! Special order it by mail if you must. But really, nothing less than a boycott is called for when a track of this magnitude is left off of the U.S. issue for no reason at all. (However, the European CD version *does* have the dreaded audience sample which supposedly spoils "Knockin' on Heaven's Door." My European vinyl album has a glitch-free "Knockin," and the added "Love - 0," making it the best bet of any format for now, until the CD is corrected or the track is added to the American release. Otherwise, you're basically sacrificing one song for the other... though if it comes down to this, I'd opt for the one with "Love - 0;" after all, you already have "Knockin'" on your videotape of the TV show, don't you?)

But it's a shame to ruin an appreciation of a great performance with a rant against the business forces responsible for its release (or lack thereof). This track, "Love Minus Zero," is such a glistening, delicate beauty! The spell that's cast during the acoustic sets of recent concerts is somehow, miraculously, present in the grooves of this record, in the sheen of this CD. Those who know the Concert for Bangladesh version of this same song (also, for that matter, not available on the corresponding "official" release) will be intrigued to hear that, in my opinion, this version matches that one in its originality, its immediacy, its emotional commitment. It is one of those magical moments, too, where at first you *really don't know* what song Bob's beginning to play, not because of the soundalike nature of some journeyman band, but because of the completely fresh approach he takes to considering, then presenting, the song. Listen to his mouth play with the consonants at the ends of the lines; in one verse, he presents his Variations on the Letter "R;" in the next verse, like Sesame Street, he moves on to feature another letter. Bob's playing on the break is as sensitive as his singing, and the harmonica solo at the end is exemplary as well. It does get a bit caught up in the "playing with 2 or 3 notes" loop that so many of his harp solos do these days, yet somehow when he is imitating a "raven... with a broken wing," it feels just right.

Hammering home the feeling of artistic renewal, Winston Watson's drums kick "Dignity" into instant high gear as the applause for "Love - 0" is still in full swell. The version here swings with an easy authority that the studio recording never quite acheives, Dylan on acoustic guitar here having much more control of the overall texture of the piece than he did on piano in the studio. The sound of Brendan O'Brien's organ, much more prominent all over the album than it ever was in the television broadcast, sounds god-sent here. Like on "Handy Dandy," for example, at first the organ makes the song sound almost too much like "classic 60s Dylan" to be real, or funny, or comfortable... but then the truth of that mercury sound hits you quick between the eyes, and you remember that it's HIS sound, it's the most wonderful sound there is, and nobody else has done it since. Different spins on different parts of the lyric here serve to strengthen one's appreciation of the song; this, of course, is somewhat true of every song each time he performs it, but one like "Dignity" has so very much within it that a listener needs all the help he can get! With splashes of organ and an excited and exciting vocal, it comes to life as a latter-day "Memphis Blues Again." It's always special when a "new song," yes, even a 6-year-old new song, is officially added to the canon by being performed in front of an audience (which, by the way, gives this lucky soul a chance to brag that he was present at the first live airing of "Series of Dreams" :-) ) and that is precisely the "coming-out party" treatment accorded "Dignity" here. Oh yeah, and I'll tell ya who he sounds exactly like when delivering the lines "Somebody showed me a picture and I just laughed/Dignity never been photographed!" Lenny Bruce, that's who!

To backtrack to the album's beginning, the much-too-little-performed "Tombstone Blues" is a great choice to open with. O'Brien's organ howls like a wildcat right at the point where Dylan first sings the title and you *know* this is gonna be a great night all the way through. The way Bob's percussive soloing and Winston's drumming dart in and out of each other as the song rollicks to a close gives me goosebumps... as does the person in the audience who shouts "Thank you!" after it ends. My sentiments exactly.

"All Along the Watchtower" here lacks some of the fire and brimstone that electric guitars bring to it live. The result, though, is an interesting midpoint, never quite found before, between the Jimified norm and the song's acoustic roots on "John Wesley Harding." Again, the organ suits the arrangement to a capital "T," really nice and spooky as the song fades in.

"John Brown," incredibly, marks the first official release (besides the very rare "Broadside Ballads" album) of one of Dylan's finest anti-war compositions. This rendition calmly insinuates the narrative into the listener's mind, only to have Bob step inside the title character's battered body for the devastating closing monologue; never have his phenomenal acting talents been more clearly on display. After the song comes to a ragged and dirty climax, "Desolation Row" begins its gentle pulse, immaculately frightful by comparison. Careful, reflective singing floats nicely over a tastefully arranged backing, and another classic is rendered anew for a clearly enraptured audience.

"Like a Rolling Stone" is the one performance on the album that *really* does not cut it for me. Sometimes Dylan can sink his teeth into the moment of a song and ride it for all its worth. Other times, though, there's just not all that much going on. Despite whatever shortcomings it may have had (and some will tell you it had plenty), the 1991 David Letterman Special version had more panache and more kick to it than this dragging retread ever even hints at. "The band's way ahead of me!" he said on TV. Pity they had to slow down so much for him to catch up. ;-)

But after all this, at album's close, there is "With God On Our Side," restored to its rightful place at the end of this series of songs. Here, unlike on the original broadcast, it's not an early high point foreshadowing more to come, but the summit of artistry to which he's been climbing throughout the concert. The sheer physical feat of him hitting those glorious high notes in the middle of each verse is that much more impressive coming at the end of a night's hard singing than it would have been only three songs into a show (when his voice would naturally be more "fresh"). And the song brings home the creeping feel of history that likewise has been growing as the evening goes on. Grandpa Dylan, fresh-faced youths at his feet, has been telling the kids about his life and times. Singing his old hits, telling of wild times in his youth ("Everybody must get stoned!") as well as his commitment to the cause ("The Times They Are A-Changin',") which, to these ears, here sounds more like a recollection of the bygone civil rights era than a wake up call to Newt et al). It is fitting, too, that the other recent song he sings here besides "Dignity" is a song about reflecting on the past, "Shooting Star." So at the end of his little lesson, he zooms out, expands the picture beyond his own personal history to the history we all share, in every generation. A history of bloodshed, of victors and victims. And down from the mountaintop comes the knowledge, only implied by Bob (gotta make these kids do a *little* of the work themselves!), that it isn't God at all who will stop the next war. That only a personal commitment to peace and justice from each and every one, young and old, in that sea of faces watching an old man on a stool, in a room in New York City and in rooms throughout the world, has a chance of doing just that.

'Course even then, it's a long shot....

Peace y'all,
Jeff

---
Date: Sat, 29 Apr 1995 22:10:29 -0400
From: "Michael J. Stern" (stern@PANIX.COM)

New York Times, April 30, 1995
Arts & Leisure p.33

Recordings View/Jon Pareles
A Rocker Who Hasn't Gentled With Age
BOB DYLAN HAS JOINED THE parade of well-known rockers who have released albums from "MTV Unplugged." That's as far as his conformity goes. Dylan's "MTV Unplugged" (Columbia CT67000, cassette and CD), recorded late last year, isn't a tepid, defanged runthrough of hits, like Eric Clapton's and Rod Stewart's sessions, or a spontaneity-free recital like Mariah Carey's. Acoustic guitars in hand, Dylan's new band still rocks, and the sly old master makes his songs crackle and rage and ache.

Dylan, now 53, is as death-haunted as any grunge rocker, as corrosive as most punks, as free-associative as some rappers. Yet on MTV, as elsewhere in current pop, he's an oddity. His musical tastes are old-fashioned; he doesn't play folk-rock as currently revived by everyone from R.E.M. to Tom Petty, but folk with a rocker's edge. And his songs are highly individual yet almost selfless, barely concerned with private gratification. His best work, like "MTV Unplugged," brings human passion and musical wit to metaphysical struggles.

In the 1990's, Dylan's songwriting has apparently stalled while he has released solo albums of traditional songs, sung in a voice as caustic and untutored as his rural sources. On tour, however, he has reawakened his great 1960's songs and winnowed more recent material, spurred by a band that's in touch with all of Dylan's roots, from slide-guitar picking to church organ.

Dylan emerged from the 1960's folk revival, unfurling visionary images as he melted down country and blues, Celtic ballads and gospel tunes, rhythm-and-blues and a touch of pop. Despite the post-modern juxtapositions of his lyrics, Dylan has almost always treated his music as if it came from the days before recording. He's dedicated to live performance, with all its sparks and faults.

He has always toyed with his songs, sometimes wrecking them in the process (as on previous live albums like "Hard Rain" and "Bob Dylan at Budokan"). But on "MTV Unplugged," he doesn't just rattle off familiar words; he inhabits them again, with the bravado he had three decades ago now transmuted into an elder's crustiness and compassion. He rasps and slurs, croaks and bays, as unpretty as ever but less guarded. Three decades ago, he sang "Desolation Row" with a sneer; on "MTV Unplugged~" his quiet, conspiratorial voice makes the song more paranoid. "MTV Unplugged" includes only three songs that aren't from the 1960's: "Knockin' on Heaven's Door" from 1973, "Shooting Star" from 1989 and an exhilarating version of " Dignity, " besting the studio rendition on 1994's "Greatest Hits Vol. lll."

Yet in performing on MTV, Dylan may have been thinking about reaching the children of his baby-boomer fans. His touring band is augmented by Brendan O'Brien, Pearl Jam's producer, who plays electric (not unplugged) organ with judicious assurance. Guns 'n' Roses fans can recognize "Knockin' on Heaven's Door," while "Rainy Day Women No. 12 and 35" has the chorus that's a sure-fire crowd pleaser: "Everybody must get stoned." "Rainy Day Women" turns into a jaunty free-for-all, with O'Brien's organ, Bucky Baxter's slide guitar, John Jackson's guitar and Dylan's plunking lead guitar gleefully jostling one another over Winston Watson's rollicking drums.

DYLAN ALSO CHOOSES 1960'S portents that still seem trenchant. "Like a Rolling Stone" might well apply to a scruffy, displaced younger generation, and "All Along the Watchtower" maintains its foreboding mystery, while "The Times They Are A-Changin' " has become as much a warning as a battle cry. On "MTV Unplugged," Dylan reemerges as an antiwar protester. He sings "With God on Our Side" with sullen disbelief while the band turns it into a stately country hymn. And in "John Brown," an Appalachian-style ballad from 1962 that has never appeared on an official Dylan album, he tells the story of a disfigured soldier; the song's graphic descriptions make a bitter contrast with the band's string-band lilt.

"MTV Unplugged" could have easily included more material from the sessions, but the songs on the album hit home. Dylan knows, as Nirvana did, that "Unplugged" doesn't have to mean mellow. --
---
Date: Tue, 2 May 1995 20:47:44 GMT
From: Tom Favata (tbuick6@IX.NETCOM.COM)
Subject: SONY DOES'NT TALK, IT SWEARS!!

Just picked up the video and am about to put in my VCR. "Love Minus Zero/No Limit" is included on the VHS which probably explains Sony's selfish marketing strategy. By leaving it off the CD, we Dylan-acs must make 2 purchases to get what the European fans get with 1. On the up-side, the "Knockin' on Heaven's Door" on the US CD is un-glitched, which will probably make it as desirable in Europe as their 12 song version is to US. A screw-up this big is no accident. Sony has created a collectors market on 2 continents....and we're going for it.
---

Date:    Tue, 2 May 1995 16:49:30 -0700
From:    PAUL K EISELT (ueisep00@MCL.UCSB.EDU)
Subject: UNPLUGGED AND THE AMERICAN MYTH!!

        I assume that EVERYONE ELSE on rmd will also be posting similar
messages to this, but hey, here it goes:

        I have both a CD and a Cassette of the AMERICAN VERSION of "Bob
Dylan: MTV Unplugged".
        YES!!  KNOCKING ON HEAVEN'S DOOR SOUNDS WONDERFUL

                 I'll repeat myself just to be sure!!!

        YES!!  KNOCKING ON HEAVEN'S DOOR SOUNDS WONDERFUL

As far as I can tell the CD and Cassette are mixed basically the same.
They also have the same tracks as the American  LP (I looked but did not
buy); which are as follows:

Tombstone Blues
Shooting Star
All Along the Watchtower
The Times They Are A-Changing
John Brown
Rainy Day Women #12&35
Desolation Row
        (end side one, for the tape)
Dignity
Knocking On Heaven's Door
Like A Rolling Stone
With God On Our Side

        11 tracks.  No "Love -Zero".  everything sounds wonderful. "John
Brown" (one of my personal faves.) is amazing.  "Des. Row" is Godly. and
"With God On Our Side" is great, but I feel that it loses impact the more
I listen to it (much like the original).
        The biggest surprise was the stunning opener "Tombstone Blues"
it, as some one else has said, is better than the original and realy
revitalizes the song.
        "Dignity" is also great, but I prefer the GH3 version.  The rest
of the songs are just fine the performances and mixing are all fine.  I
think that if there ever was a F***ed up "KOHD" then it must have just
been on the promo.  Maybe to discourage illegal selling or copying?? I
dont know.

  I do have a few questions: Is "LARS" an edited version of the MTV
version, or is it a different version.  On TV the band messed up (or
Bobby did) and they had to start over.  Dylan apologised, and made a
small joke, and the audience howled at the fact that he spoke to them.

        Why does the cassette have over 4min of blank space at the end of
the second side???  Could this be our missing "Love -0"?  I dont know.
        Anyway, for those of you who bought the LP here is some info,
that you may not have gotten:
                                Tony Garnier- bass,  John Jackson- guitar
   Bucky Baxter- pedal steel, and doboro (what the hell is a doboro anyway)
Winston Watson- drums, and  Brendan O' Brian- hammond organ (Brendan, by
the way gets a "very special thanks")
   Bob Dylan only gets writing credit, I guess they assume that we already
know who's singing ;-)
All the lyrics are from the "Lyrics" book.  Which makes them obsolete in
the cases of "John Brown" and "With God On Our Side".
        Sony gives it's e-mail address if you want "more information":
                        www.sony.com
        Interestingly enough, I like the cassette's packaging better than
I like the CD's.
Anyway I say thumbs up, although there will HAVE to be something done to
the end of side two in order for it to be listenable.

        "this 'post' must be good for someone....if not for me then....
I know its good for somebody"

        --SAJE PRESTON--
---
Date: Tue, 2 May 1995 23:43:45 GMT
From: WHB (pondaray@IX.NETCOM.COM)
Subject: Unplugged outakes

Hello!

The new Dylan Unplugged CD contains only 11 of the 20 songs that were recorded for the MTV show. Does the video contain them all or is there a boot CD of the remainder? - Note from Rainy: T-008, 346, 385, 459, 467, 478.

The set list indicated the following other songs were performed: I Want You; Don't Think Twice, It's Alright; Hazel; Everything is Broken; Love Minus Zero/No Limit; Sweet Marie; Shooting Star; Back Pages; and Tonight, I'll be Staying Here With You. Any information on whether these will come out on disk?
---
Date: Wed, 12 Jul 1995 08:04:02 GMT
From: Tim Anderson (reer@CIX.COMPULINK.CO.UK)
Subject: Re: Dylan Unplugged

> What are the matrix numbers?

My corrected version says:
01-478374-10 45 A1
I swapped my collectors' whistling version for one that I enjoy listening to!

Tim
---

Date:    Fri, 14 Jul 1995 23:55:00 +0900
From:    Masato Kato (PXN05667@NIFTYSERVE.OR.JP)
Subject: Re: "Uuplugged" MD

Dear Boboholics people,
     I had a chance to play "Unplugged" MD a week ago. I went to the audio
shop downtown Tokyo and asked people there whether I could play my
MD's.
     The Japanese pressing MD (12 songs) has those repeating whistles
on 'Heaven's Door'. The American MD (11 songs) has not.

from MASATO KATO - Boboholics/Deadhead in Japan
---