Bob Dylan - Love Sick CD singles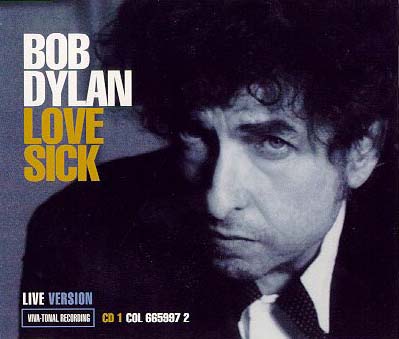 (Click on image to get a high resolution version.)

Love Sick  CD1:
CD Single made in Austria, released in Norway 2 June 1998. (23:22)

1. Love Sick (live "Grammy" version) (5:29)
2. Cold Irons Bound (El Rey Theater, LA  971216) (6:50)
3. Cocaine Blues (El Rey Theater, LA  971216) (5:43)
4. Born In Time (Center For The Performing Arts, New Jersey  980201) (5:19)

(Source: Ben Taylor/Ray Schweighardt)

---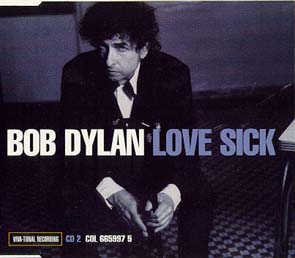 (Click on image to get a high resolution version.)

Love Sick CD2:
CD Single made in Austria, released in Norway 15 June 1998. (22:20)

1. Love Sick (album version) (5:22)
2. Can't Wait (El Rey Theater, LA 971220) (6:04)
3. Roving Gambler (El Rey Theater, LA 971217) (3:53)
4. Blind Willie McTell (Jones Beach Music Theater, Wantagh  970817) (7:00)

There is also a 2-track single, containing Love Sick (Grammy version) and Cold Irons Bound.
You can buy these CD singles from Amazon (imports to the US):
Love Sick 1 - Love Sick 2 at USD 12.99 each.
(2-3 days and 24 hrs delivery, respectively. Last updated Jan 3, 1999)
These tracks also constitute the "Bonus CD" in the Australian release:
Time Out Of Mind (+ Bonus CD) at USD 30.97 from Amazon (as of Jan 3, 1999).
---
Not Dark Yet single