Still Go Barefoot wrote:
Rasputin Imperial Stout
I can't quite place the context of this post, but i must say, I like it! usually my goto when someone says, "Guinness is bad stout? well what's a good stout?"
anyway, with or without context, it's the perfect trigger to remind me to do something that i intended to do earlier, but thought it might be appropriate closer to tour time, so I held off. -
A beer drinkers guide to roadbrew: How to tour with Bob and a sixpack of your favorite meddley and get the Visions of Johanna you hoped for...
I may have held off so long that I had forgotten were it not for this refreshingly tasty post of Imperial Russian Stout. (A great beer from California - so it could work on the Pennsylvania leg, if the weather stays cool enough).
So, the beer guide. Okay, it's not ready to publish yet - but one tip is to
choose seasonally.
When loved ones go to the store and say, 'what kind of beer should I get you?' I respond, 'how do i know?' Usually I get my beer by the pint, about a half hour before consumption, because that's when I can take into account the weather and my mood. Now, some things need to be packed in advance for a Bob show, especially if you're going to a town without a gourmet beer selection (but Sam Adams or Anchor are fine, if you are ever in such a pinch).
But taking into account the SEASON is key! this will reduce the types of beers you will have to decide from, and it will also give you an opportunity to furrow your brows and wonder, 'why are they selling 312 urban wheat style lager in the middle of January?' Has the world gone
insane
?
So lesson 1 of this book is to
pick seasonally.
(if you can pick seasonally & regionally you are in GREAT shape, but I haven't gotten to the regional chapter yet, although I guess that's what the thread is for).
The only thing I'll add to the seaonal condition is that it's helpful to know if you are going to be drinking daytime beers or nighttime beers, or both.
So we are at the trailing end of Stout season. Still appropriate if drunk late night* (*read: drunk late at night, or drunk, late at night) or if warmed enough to have properly during the day, between 11 and 2. Contrary to popular belief, stouts can actually handle March madness better than most Porters. And the brown ale is just sooo fall, it's hard to give it a reach. Save those for those spring days that feel like it's still winter in April. You'll need something to make you feel at home.
Come afternoon, you'll want to reach for some hoppy Ales. Nothing light or weak, it's not even time for MaiBocks yet, so don't get too excited. temp must be above 70 for those, 80 for wheat beers. This interseasonal time of the season is hereby dedicated to the reliable
IPA
.
The boldest are too bold and daft for my tastes, but they'll knock the socks off any veteran, unless they're a bourbon barrel booser. But some of the greats are fine and balanced. A well placed citrus finish can really bring the sun out of the clouds this time of year. great daytime and night time beers. You can increase the hops as you go along to make it more appropriate for the hour. I do NOT recommend going from hoppiest to least hoppy. In fact, i won't stand for it. you should give the rest of your beer to
Barefoot
if you started with your hoppiest beer.
this is my personal favorite IPA right now, very balanced as that overpowering stuff really turns me away: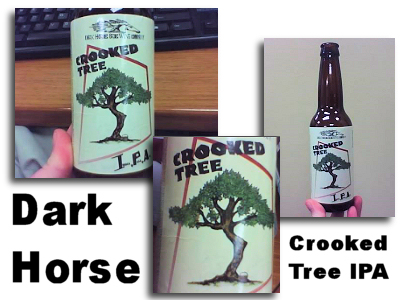 whose brewery apparently sits between kalamazoo and ann arbor - out of my way, but not necessarily out of your way - worth a separate post.
You may be saying right now, 'but i'm not a beer fan, i don't like the dark or tasty ones.'
Well there are some great whites
Wineman
might recommend for this time of year.
Then there are some milder, fruitier alternatives. A
BPA
is possibility for a day that hits 60. For the adventurous that may have had one two many IPAs, don't limit your taste buds....they are getting addicted to hops like it's salsa! Go for hearty red rye ale, which are getting good right now, and quite seasonal. OR the traditional go to for the hops: The PILSNER. a beauty for exactly one pint at nearly any time of the year. for other times of the year, it's good for a small handful of beers.
So, on to portions (excerpt from another chapter): For a dylan show, I usually follow the 6 pack per show principle. Which means, I buy two sixpacks for medley making. Night time beers and daytime beers, both seasonal.
for a given 6 pack for the show: 1-2 go towards packing and prepping the night before. 1 for the road journey, either before after or during. and 2 for before show. That usually means i'll get either none inside or one big one. depends on the venue and the company.
So, for after the show, I'll either have one left from packing night for a nightcap, or I have the local bar recommendation to make it for a post show beer. Alternatively, I can move the two pre-show beers to an afternoon bar (which worked out well in Milwaukee) and still have the personals for the nightcap later. Or for the road/afternoon duties on the next day, if there is another show. That's the beauty of the sixpack. You can take it with you, and once you get it, you can really mix it up. If you travel with friends, you can really mix it up, but only recommended if everybody is equally committed to the principles outlined by this rough guide.
Important to note that you were supposed to leave a sixpack at home for your return. it will have been an exhausting enterprise and you should have something to wind down with.
Finally, add regular stretching and walking into this routine, since the last thing you want is to feel bloated in the middle of Highway 61 after all that hard work you've pulled.