Just finished this: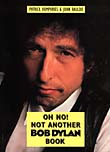 One of the interesting passages is this:
Quote:
The convenient way for Dylan to avoid fresh interpretation of his songs, to avoid questions being asked, is to retire from the public eye, but he refuses to accede to the easy way out and is still to be found out there, failing the public one moment, gloriously succeeding the next. Always inconsistent: that's the Dylan dichotomy!
(p.91)
I believe 'always inconsistent' is a perfect description of the first almost thirty years told in the book. It probably applies to the full first forty. But I think this has changed in the last ten years. The album quality hasn't been swinging as widely as it used to. The NET (boosters/bashers) feel the live performances are consistently (excellent/execrable). The NET band membership is pretty static.
Dylan mixes up the performers on albums. He mixes up the song lists from show to show. He varies the standard finish of a show from tour to tour. A Christmas album was certainly a curveball. And David Hidalgo reported on some 'making new' in the studio this time:
Quote:
Hidalgo appreciated Dylan's embrace of the Mexican sounds. But he has an even bigger appreciation of Dylan's outlook on music generally. The recording session, he said, was nothing like the earlier ones he had done with Dylan.

"It was a great experience. And different. Each one has been different, all completely different approaches. It's an amazing thing, how he keeps creativity. I don't see how he does it."
But I think these are variations around a stable baseline and I wonder why that is. A failure of creativity or ambition? Or finally finding a way of communicating with his audiences that suits him?
I think it's a mix, and probably should be. For someone to be run by ambition in their 70s would be sad and I would not wish that on anybody. A creative peak like TOOM and "L&T" could hardly be sustained, but not likely lost in a flash. But I suspect it is more of the latter.
Thoughts?
Full disclosure : I'm a booster.